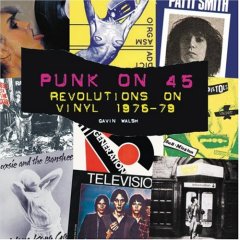 "TRB's [Tom Robinson Band's] 1977 debut '2-4-6-8 Motorway' sounded like Status Quo with a middle class vocalist" (p. 99)
Nipple Erectors (later Nips) vocalist Shane O'Hooligan, later reverted to orig name McGowan
Riff Raff member Billy Bragg – early 2nd wave UK punk
Poly Styrene's orig name is Marion Elliott
Tom Miller & Richard Meyers – Tom Verlaine & Richard Hell
Stuart Goddard – Adam Ant
Henry Padovani is the guitarist whom Andy Summers replaced in the early Police
Wm: a CD comp I have called Lost Hits has a band called the Flying Padovanis, song Piu in Alto
"The US assimilation of punk rock would not take place until the early 1990s, when its championing by Nirvana would inject some …"
The quote "are we not men?" is from the SF movie The Island of Lost Souls
The Corpse Grinders, w/ex-New York Doll Arthur Kane and Rick Rivets
New York: The Shirts were melodic power pop, as were the Criminals, led by ex-New York Doll, Sylvain Sylvain
"Nina Hagen ['s] … main claim to involvement with punk rock seemed to stem from her Siouxsie-ish application of mascara. In reality, she was a young acolyte of the European bohemian/post-hippie scene, who enjoyed a close relationship with Dutch junkie rocker Herman Brood"
Ruzan Pamean, "I Mlad" (Serbian), not the first punk group from that region, is "indicative of the post-punk sound subsequently epitomised by Joy Division."
Pistols Cook and Jones joined Thin Lizzy on the Greedies' Christmas song "A Merry Jingle" (Greedies, formerly known as the Greedy Bastards)
Spizz Energi: "Where's Captain Kirk?"
Look into band: Kleenex
Look into band: Skids (Into the Valley – what does it sound like? what style is it?)
Look into band: Swell Maps
Rezillos changed name to Revillos to escape a bad contract
Monochrome Set (is in Group Name, Song Title – are they ex-members of Adam and the Ants?)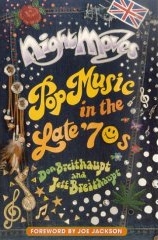 Here are a couple quotes from this book. These brother authors also have a book on the early '70s, Precious and Few.
Today, listening to "vintage" corporate rock for any length of time conjures a storybook collection of faceless tin men crying "oil can," a band of formulaic Foreigners in the Land of Oz on a futile Journey to find a Heart. As they march along the winding road – did we mention it's paved with gold? – they survey the barren, almost lunar, landscape. "Toto," they whisper, "I don't think we're in Kansas anymore."
The Chain: California Pop's Old-Dude Network
Jackson Browne produces Warren Zevon … whose "Poor Poor Pitiful Me" is covered by Linda Ronstadt … whose backup band becomes the Eagles, who cover "Ol' 55" by Tom Waits, who is romantically linked to Rickie Lee Jones … whose "Easy Money" is covered by Little Feat founder Lowell George, who produces Shakedown Street by the Grateful Dead … whose Terrapin Station is produced by Keith Olsen, producer of Fleetwood Mac … whose Stevie Nicks duets on "Whenever I Call You `Friend'" with Kenny Loggins, who co-writes "What a Fool Believes" with the Doobie Brothers' Michael McDonald, who is a former member of Steely Dan … whose later albums feature guitarist Larry Carlton, who is a former member of the Crusaders, who are featured on Sleeping Gypsy by Michael Franks … whose albums feature saxophonist David Sanborn, who also plays on "How Sweet It Is to Be Loved By You" by James Taylor, who is produced by Peter Asher, who also produces The Glow by Bonnie Raitt, who performs at the M.U.S.E. concerts … which also features Ry Cooder, who plays on Sail Away by Randy Newman … whose Born Again features the Eagles … whose Joe Walsh produces Souvenirs by Dan Fogelberg, who guests on albums by Jackson Browne, who co-writes "Take It Easy" with the Eagles … whose mid-seventies lineup includes Randy Meisner, who is a former member of Poco … whose Jim Messina records seven albums with partner Kenny Loggins, who is a charter member of Gator Creek … whose Michael Omartian plays piano on Aja by Steely Dan whose former drummer Jeff Porcaro later joins Toto whose members back Boz Scaggs, who is a former bandmate of Steve Miller, who has a hit entitled "Heart Like a Wheel" which is also the title of an album by Linda Ronstadt, who covers "Willin'" by Lowell George, who, as mentioned, covers "Easy Money" by Rickie Lee Jones … whose debut album features saxophonist Tom Scott, who also plays on Aja by Steely Dan … whose alumni include Doobie Brothers guitarist Jeff "Skunk" Baxter, who produces Livingston Taylor, who is the younger brother of James Taylor … whose "Her Town Too" is a duet with J.D. Souther, who is a former member of Longbranch Pennywhistle, a band which also featured Glenn Frey … whose Eagles partner Don Henley's "Desperado" is covered by Linda Ronstadt … whose backup vocalists include Nicolette Larson, who duets on "Let Me Go, Love" with Michael McDonald … whose "It Keeps You Runnin'" is covered by Carly Simon, who is married to James Taylor … whose touring band includes pianist Bill Payne of Little Feat … whose Lowell George is former bandmate of Frank Zappa … whose opening acts include Tom Waits, who … Well, you get the idea.
These are as told by Solomon Burke from Gerri Hirshey's book Nowhere to Run: The Story of Soul Music. The first also involves Sam Cooke.
[Solomon Burke:] "I buried countless strangers and far too many friends. Otis Redding, Sam Cooke. They were babies. Babies. Otis was twenty-six. Otis loved planes too much. A woman killed Sam Cooke. She claimed self-defense; she said she was afraid. It is hard to believe you could look at that man and be afraid."
[Gerri Hirshey:] I wonder aloud if maybe it wasn't Sam Cooke's exceptional beauty – musical and physical – that made some people uneasy.
"You mean, if he found it to be a curse sometimes? I'd say yes. I'd say yes because I was there and I saw it. It happened in Shreveport."
Solomon was with Sam Cooke in that sticky Louisiana town, was witness to the reason Sam wished aloud the rich black earth would heave up and swallow the damned place and wipe it from memory.
What Shreveport did was this: It singled Sam Cooke out for his talent and his beauty and humiliated him beyond his imagination.
As Solomon begins the story, he notes that Sam Cooke was shot to death in a motel not far from here. But he says that something got killed – at least, gravely wounded – earlier on, in Shreveport.
"Sam was a very proud man," he says. "He was a star. But for a minute he forgot what he was in the South."
It began in a small flyspecked restaurant, next door to the motel where Sam, Solomon, and others had put up for the night before their next date in New Orleans.
"B. B. King's backup orchestra was with us, too. And I think Jerry Butler. Maybe Bobby Blue Bland. I'm not sure of the show lineup, but the rest I'll never forget. We were in these little row houses, like motel cottages, and the restaurant was next door. We went in there, and they wouldn't serve us. But another waitress recognized Sam. You know, he was so good-looking.
"Anyhow, she was a white girl, and she came over to the motel and said to him, 'I'll get you what you want to eat. Send your road manager or somebody to the side door, and I'll give it to them.' So she took all our orders. We gave her the money, and we were waiting on her to call us back on the phone at the desk so we could get the food. The next thing we know, police are coming into the room from everywhere. The police took Sam and I out of there.
"They took us to the fire station and made us take off our clothes. They said, 'Now get your microphones, boys, and start singing.' They had us do the whole show."
He is smiling at the visual memory now, of the tall, slim Sam Cooke and himself, both sweatin' like Niagara, dancing naked for the red-faced firemen and cops, trying to sing with fear-parched throats.
"You should have seen me singing 'Cry to Me.' Shreveport, Louisiana. Okay. My Lord. We did all our records. I did the background for Sam's pop stuff, the ooh-doo-doos, and Sam did my background. And when we had finished, the guy told us, 'Get in them stolen limousines, boys, and don't ever bring your band to Shreveport again.' We were happy to oblige.
"Just another day," as Sam had sung with the Soul Stirrers. "Just another day my Lord has kept me."
"He never did get over it."
"[I called myself the king of] 'rock and soul' because soul singing to me is just basically singing from your soul. Whatever you do can be soulful. And that especially went for the country stuff. That got me a lot of bookings in the Deep South, in some places no other black artists could get into. That kind of country soul bridged a lot of waters. Of course, once or twice it darn near killed me. . . ."
Occasionally a white southern audience would not know that Solomon Burke was a black man until the curtain parted. Even more frightening was a gig in Alabama when the artist was unable to see the faces of his audience.
"It was to be one of those big outdoor deals," he says. "We got down there early, about four in the afternoon. And the sheriff came up and said, 'Now don't you boys worry 'bout nothin.' We have a whole setup over here for you.' "
On a ridge, in the middle of a large field, there was a huge tent. "There were beds and radios, and oh, Lord, all the beautiful black girls were out there with their mothers, cooking chicken and potato salad, slicing watermelons."
The white sheriff let it be known that he had spared no effort in orchestrating his idea of a black man's paradise. "He said, 'Now you boys remember this is sponsored by the county sheriff, so you don't have nothin' to worry about. Eat here, sleep here. Got an outhouse, four outhouses just for y'all. The ones with the green crosses is your outhouses.' "
As the sheriff walked off, Solomon counted the money, $7,500 in cash. The band rested in the cool early evening, ate the food provided by the women, and met with a sheriff's emissary for final instructions.
"The guy says, 'We want your band to hit just as dusk starts falling and let them play until it gets dark. Dark. And when it gets dark, I want you to come on with 'Down in the Valley.' Then if you could make the next number 'Cry to Me.' And I said, 'We'll do it, we sure will, by God.' "
The man smiled and made to leave. "You boys is all right," he said.
The band went on at dusk, as requested, and played until dark. The emissary reappeared and told Solomon it was time for him to go on. Though he could see no people beyond the stage, he walked out and began "Down in the Valley."
"All of a sudden I could see lights. Lights coming all around us, from all directions. You know, glowing over all the ridges. Thousands and thousands of lights it seemed. They were coming closer. And then I could see beyond the lights. It was the KKK, in robes, with torches. All KKK – husbands, wives, children in bitty little sheets. Walkin' in out of the field towards us. I want to tell you, that's when I knew that the Lord had called me to ministry. 'Cause I said, 'Jesus, if you walked with me ever in my life, run with me now. And if you can, show me which way to go, Lord. Like straight up.' "
The band was in a 4/4 coma of fear, keeping the beat with ice-cold fingers and pounding hearts. The drummer was able to croak to his boss, "Man, you said this was the greatest gig we ever had. You didn't say nothin' 'bout it bein' the last."
The crowd had begun to yell at Solomon. To his relief, they were screaming the titles of his hits.
"We did the show, and when we got to 'Travel On,' well, I think we did 'Travel On' for thirty minutes. I'm singing and wishing, you know, 'Feel like I got to travel on . . .' and some guy in a sheet yells, 'One more time.' Okay, no problem, buddy. Thirty more times if you say so. I tell you, it was one of the greatest performances my band ever came up with."
When at last the torches burned down and the robed hosts departed, the sheriff presented Solomon with a sticker for his car that would ensure him safe-conduct in all Klan territories.
"You boys is all right," he said again, and drove off across the field.